Description
Specs:
Wheel Size: 14" x 7"

Bolt Pattern: 4 on 136

Back Spacing: 5.50

Offset: 38mm

Beadlock: Yes

Max Load: 1000 lbs

Center Bore: 110mm

Finish: Matte Black

California Residents: WARNING
WARRANTY
Warranty and mounting instructions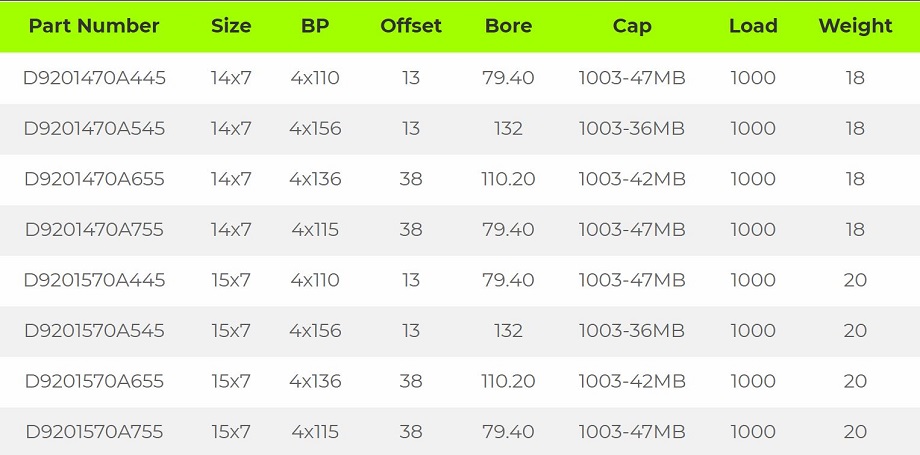 View All
Close
Warranty Information
FUEL WARRANTY
To the fullest extent recognized by the laws of the state where the wheel was purchased, Wheel Pros issues this limited warranty to define the rights of the purchaser, and limit Wheel Pros liability, with regard to warranty claims.
Wheel Pros warrants that our wheels will be free from structural failure under normal and intended use for as long as the original retail purchaser owns the product. Customers are specifically directed to the Wheel Pros Consumer Information and WTC Aftermarket Wheel Installation Guidelines, supplied with the wheel. Failure to comply with these instructions shall void this warranty.
Except as specifically set forth below, Wheel Pros warrants that products manufactured will be free from defects in material and workmanship under normal intended use for a period of one year from retail purchase.
Wheel Pros warrants that chrome and painted aluminum finishes will be free from peeling or lifting on the face of the wheel for a period of one year.
Wheel Pros warrants that PVD finishes will be free from peeling or lifting on the face of the wheel for a period of two years.
> Polished aluminum wheels, that have not been clear coated, oxidize. They require regular maintenance. Polished aluminum finishes are not covered under warranty.
> Excluding surface rust or corrosion, Wheel Pros warrants the paint and plating on steel wheels for a period of 90 days.
> In no event shall Wheel Pros be liable for any special, incidental or consequential damages.
> This warrant is not applicable if:
> Damage occurred due to failure to follow completely the instructions provided in the Wheel Pros Consumer Information and WTC Aftermarket Wheel Installation Guidelines;
> Corrosion or damage occurred due to improper maintenance;
> Damage or structural failure occurs as a result of an accident or road conditions;
All implied warranties, including, without limitation, warranties of merchantability or fitness for a particular purpose, are hereby disclaimed.
Wheel Pros products are not designed to be used with any accessories or adapters other than those supplied and/or approved in writing by Wheel Pros. Use of any accessory or adapter not manufactured by Wheel Pros voids this warranty.
To initiate a warranty claim, the purchaser shall return the wheel for visual inspection to the retail or wholesale dealer from whom the product was originally purchased; along with a copy of the original sales receipt. "Should the dealer determine that the wheel has failed to perform as expected under this warranty the wheel will be repaired or replaced at the sole and absolute discretion of the dealer. Such repair or replacement shall not include the cost of removal, shipping, installation or reinstallation of the wheel.
This warranty expires upon transfer of title of any products by the original retail purchaser.
IMPORTANT: If returned products are found ineligible for warranty coverage, the product will be returned to the sender, without repair or replacement, at the sender's expense.
RENO OFF-ROAD RETURN POLICY
Customer satisfaction is our top priority. We accept returns on unused products, buyers have decided against after receiving, on a case-by-case basis.
Contact us if you ordered a product that you have since decided against, and we will do our very best to get it returned or exchanged.
Any unused merchandise in the original packaging may be returned within 10 days of the original purchase date, or received date depending on the shipping timeline. There are no returns on electrical items, special orders such as build to order products. Discontinued items will be evaluated to determine if the product can be returned. No returns will be accepted of damaged (by user) or used items.
Return request need to be submitted using the attached form, so we can issue an RMA. Please include original packaging and a copy of your invoice or receipt.
For more information or any other questions you may have, please call us at 1-75-553-8333 or email info@renooffroad.com during normal business hours 8:00am to 5:00pm PST Monday to Friday
View All
Close